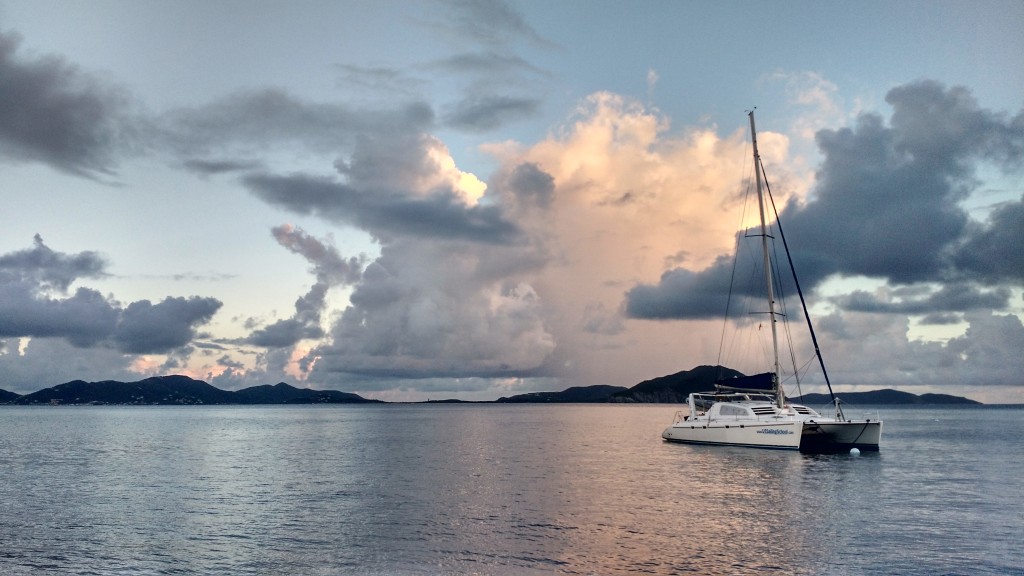 Monday, October 30th Ryan and I left St Kitts about 5am on our Leopard 44 "Speculation" and headed straight for Cooper Island in the BVIs. There we would meet our other boat Silver Lining, a Leopard 47 leaving from Saba about the same time. With very little news coming out of the area, we were a bit apprehensive as to what we would find.
Half way across we past a Canadian flagged sailboat with ½ a mast. We chatted with the guy on VHF and he told us that he was on his way to Antiqua to get a new mast and that he was only the second boat out of the yard at Nanny Key. This was 40 days AFTER Maria (which was mostly a precipitation problem) and almost two months since Irma. Only the second one out… that was the first indication of what was waiting for us.
We motor-sailed most of the day due to the 4-6 knot winds. This is best done with the windward engine which counter acts the weather helm (so the rudders stay straighter, which equals faster). The additional speed with an engine on brings the apparent wind forward and increases its speed, as long as you are sailing no deeper that 160 degrees apparent, in which case, the wind stays behind you and get softer as you outrun it.
During this time we fished, talked, did some minor repairs and napped.
With the lack of wind, we were looking at a 21 hour crossing. But as the sun was about to go down, a pod of dolphins put on a show off each of our bows.
About 1am we came around the corner of Cooper Island, one of the most popular resorts in the BVIs and saw one boat; Silver Lining. In the morning, we got a visit from the staff at Cooper Island Resort. Though busy rebuilding, they came out to collect our mooring fees, just like any other time. So we went ashore and took a few photos. The big, heavy timbered restaurant looked as if nothing had happened. They are scheduled to reopen April 1st . Link to Cooper Island Resort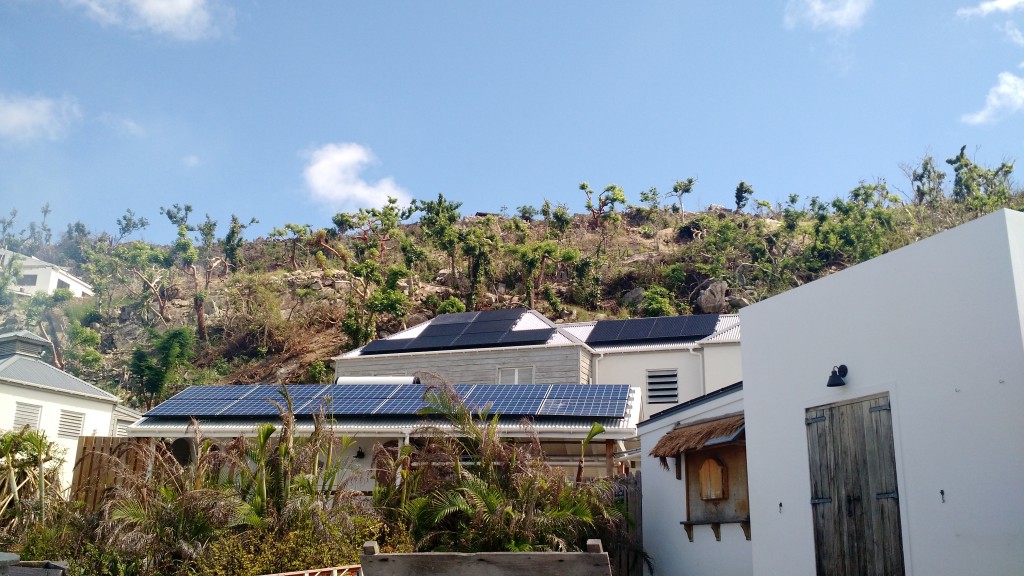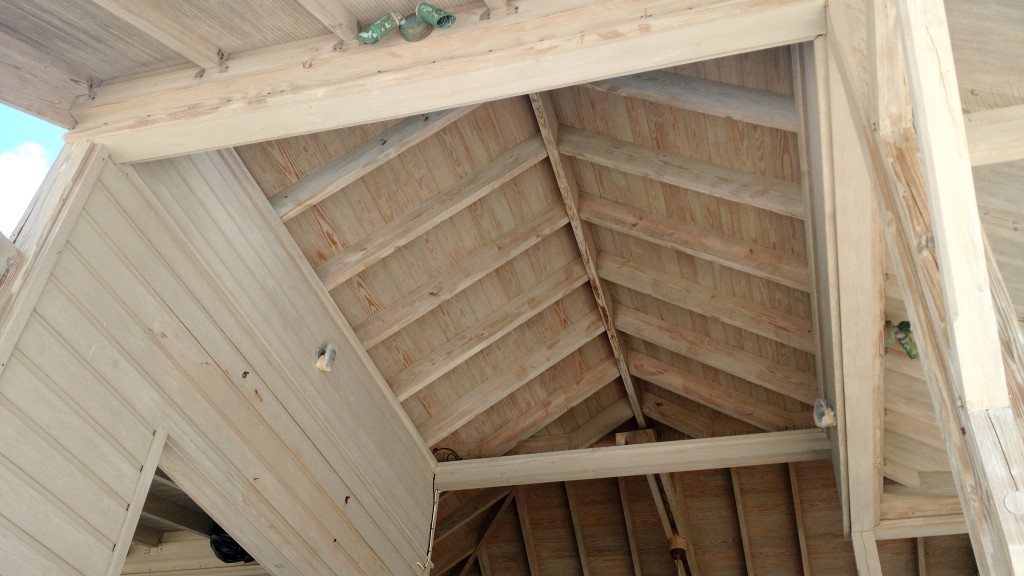 How amazing it was to be the only two sailboats not just at Cooper, but as far as we could see…
While Silver Lining when back to Red Hook, we decided to take a tour to see what we would find when we began classes in less than a month.
First the good news. Markets, fuel, water, all open and in good supply. Sun, Sky, Water, all as beautiful as ever. Now the bad news:
A Sadly Appropriate Name…….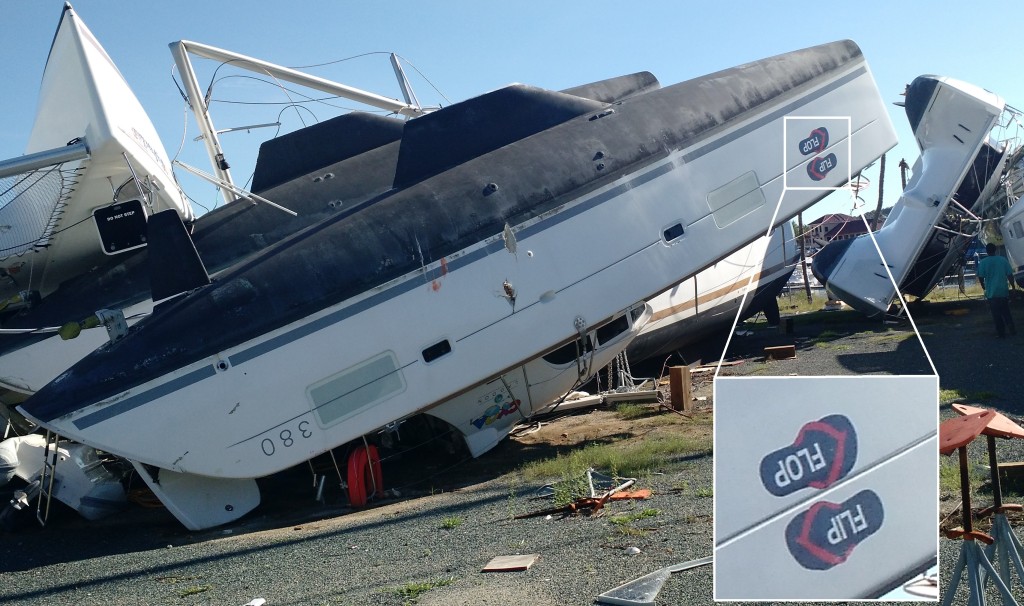 The three restaurant/bars we visited that Halloween night were so happy to see us. In summary, saying, "Bring your customer and students, we need you!". Which is where we met an insurance adjustor "Jason". He was there from a San Diego company taking on a big job. We ended up at his hotel to watch the World Series. At the end of the game we realized it was after curfew. "No problem", said Jason. And off we went in his car only to hit a couple of patrol cars blocking the road about 100 yards from the harbor. "I'll handle this, just let me do the talking" said Ryan with an assured confidence he could talk us right through. Well, though nobody snapped photos (as would be inappropriate in that situation), here is an very close approximation of one of the two officers who approached our car.
Ryan rolls down the window and the officer says something like, "What is your business here, do you know that it is after curfew?!" After an awkward pause, Ryan said something like, "UHHH, Boat, aaah water, yeah in water where we sleep. I mean… We're going back to our boat." Ryan (nor any of us) where ready for those two!
The next morning, we headed to the now infamous Paraquita Bay, were Moorings and Sunsail lost 100s of boats. Drone videos to follow of that, Boat US towing a boat while it sinks and more in my next post.
But to all potential students and charters, it is wonderfully empty and tranquil and the VIs are not just open, they would LOVE to see you on the water. #VIstrong #BVIstrong .
Cheers,
Capt Scott